While being in front of a crowd performing stunts might sound terrifying for most people, it has the opposite effect on Davis.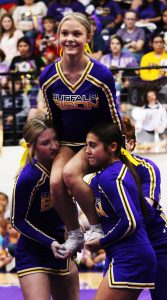 "Cheer is my favorite because I really enjoy doing it," Davis said. "It relieves my stress."  
Davis isn't the first cheerleader in her family; her grandmother was a cheerleader and "she was really good at it." But it's not all that Davis is involved in. She also plays basketball and is involved in FCCLA and is considering golf in the spring. When she isn't busy with school, Davis likes to spend time with her family, hang out with her friends and sleep.  
"My favorite drink is Dr. Pepper," Davis said. "It helps me get through the day when I have a long day."  
As a freshman, Davis might be one of the youngest members of the cheer squad, but that doesn't mean she hasn't had a big impact. 
"Riley is always willing and ready to do pretty much anything in the air as a top girl." cheer coach Cheryl Lack said. "She has been a great addition to our stunting game this year for sure. If she's fearful, it doesn't show!"