The varsity football team kicked off their home season with Decals With Dads for the second year. It is an event where players bring their dads (or another important family member) to help them place decals on their helmets. The evening takes just a few minutes, but it is a chance for the players to share a moment with someone influential in their lives. 
"I personally brought my uncle," junior Michael Brauer said. "He is a very important person in my life because he filled in the role of my dad." 
For the seniors starting their last season, the event is even more memorable.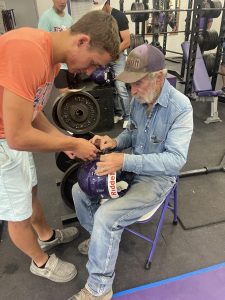 "Having my grandfather at this event meant a lot because he has been the one to raise me," senior Adam Neptune said. "This event was very memorable, and I'm glad this was how I started my last year of football." 
Athletic Director Jamin Savell started the event when he came to Buffalo ISD last season. 
"It's something we started last year and had a great turnout. It was a great experience this year as well," Savell said. "It can get comical watching some of the dads and mentors struggle while putting the decals in the correct place."  
Savell likes the chance to give his players something to feel proud of. 
"It's a pretty good bonding experience. Lots of the dads and other people who were influential in our athlete's lives helped shape them," Savell said. "I think it is great for the athletes to feel a sense of pride because their mentors are in their environment."