Movie Review: Remember the Titans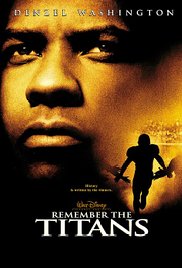 In Virginia, high school football is everything. They prioritize game day more than their own birthday. However, in 1971 their love for football was put to a test when the white and black schools in Alexandria were integrated. The team must rise above the hate going on all around them and play ball. Remember the Titans is an inspirational film that demonstrates that hate can be overcome with love and respect.
In the movie, the conflict begins when Coach Boone (an African American) is hired to coach at an all-white school, and the blacks are integrated into the school. Together, with coach Patton, they unite the team from racial prejudice and hate. The team must work together to win games, even with the players having differences and tension amongst themselves. At first the players do not get along, but throughout the movie, the players start to give one another a chance and end up becoming very good friends. A great example of one of these friendships was Gerry Bertier and Julius Campbell. They become very close and they're always together; Gerry even tries to introduce Julius to his girlfriend, and when Gerry had his accident, Julius is the only person he wanted to see.
This is a great movie because it demonstrates a part of history where things were very complicated. It shows that in order to rule out hate, one must learn to love. That is exactly what the characters in this movie did. It also demonstrates how important football is to high school boys; they will die for the sport. Above everything, it demonstrates that good leadership will accomplish anything.