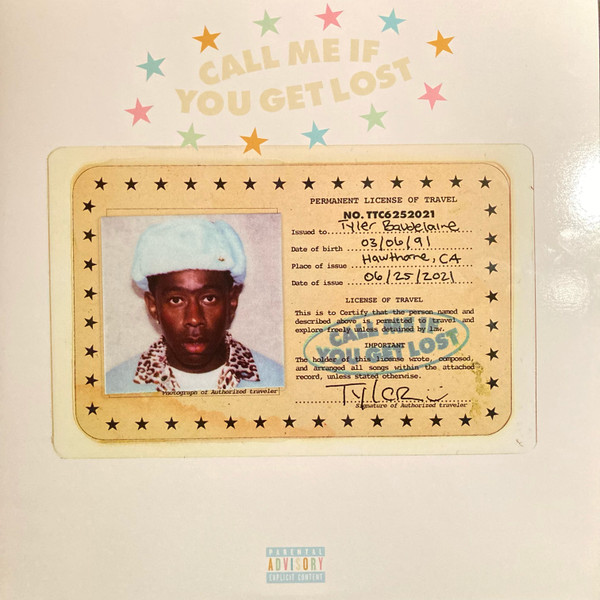 Tyler, the Creator's album Call Me if You Get Lost is the first and only album to hit No. 1 on the Top R&B/Hip-Hop Albums chart in three different years. The first was in July 2021 during its initial release, then in April 2022 following the release of its vinyl LP counterpart and finally in April 2023 thanks to the release of its deluxe The Estate Sale edition. The album gained almost 180 million streams and accumulated nearly 33 million in revenue on tour.  
Sir Baudelaire (or Tyler Baudelaire, AKA Tyler The Creator) explains that the album's name didn't literally mean to call him when you don't know what to do or if you need directions. "Call me if you get lost" is a phrase that conveys a sense of concern and support for someone who is embarking on a journey, whether it is a physical journey or a journey through life's challenges. It is a way of letting someone know that they are not alone and that they can reach out for help if needed. According to Tyler, the Creator, the phrase means that he wants to hear about the things that people are doing and the challenges they are facing. 
The reason Tyler sometimes goes by "Sir Baudelaire" is that it is making a reference to the famous French poet Charles Baudelaire. Tyler explained that after he released 2019's IGOR, a deeply personal and introspective album, he took a two-year creative hiatus; then, taking inspiration from the prominent French poet of the 1800s, gave birth to the new album, taking on the persona of Tyler Baudelaire. "Call Me If You Get Lost" demonstrates Tyler's command of the creation process. With the help of DJ Drama as his sidekick, Tyler takes on the persona of "Tyler Baudelaire," a sophisticated, well-traveled gentleman with a taste for art. Tyler uses this album to flaunt the good things he has going on. 
You should definitely take the time to listen to Call Me if You Get Lost if you are into rap or hip-hop, but even if you aren't you should still give it a chance because you never know – it may be just the style of rap you were looking for.