September has been a busy month for FCCLA members, starting with a week-long membership drive, then a canned food drive and a trip to Huntsville last week for a leadership conference.  
"I am super excited to help our members work together to complete their projects and prepare to compete in STAR events and Spotlight on Projects," FCCLA adviser Chelsea Nelson said. "Our chapter goals this year are to make a difference with our projects, help our members develop their leadership skills and make it to Nationals to compete in Seattle, Washington."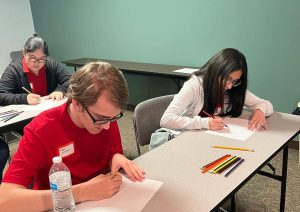 At their first meeting of the year, chapter President Bradyn Lack and Vice President Madison Gilliam led a presentation about FCCLA and covered important topics on the event calendar.  Afterward, members enjoyed pizza and played a game of bingo. About 30 members turned out for the fun. 
"I am very glad we are starting a new year with a productive chapter," Lack said. "I am proud of being president for something that has made such a huge impact on my life."  
Lack said the goal for recruitment week was for students could see what FCCLA had to offer and encourage them to join. Members got to stop by Nelson's class before and after lunch for some sweet tea on Tuesday. On Wednesday everyone wore red in honor of the official colors. Thursday members enjoyed sweet treats, and they started their Friday morning with donuts. Senior Luis Ortiz enjoyed the sweet cake pops that Nelson made.  
"I feel like recruitment week brought a lot of awareness to FCCLA," Ortiz said. "It also brought in some more fun to the environment. Plus the cake pops were so good; Mrs.Nelson never fails at making the most delicious pops." 
The next Monday, members who had paid their dues and turned in their cans for the food drive traveled to Huntsville to Region VI. Officers took over the presentations. Gilliam, along with Mikah Kesinger and an officer from Centerville, began with an icebreaker kahoot with questions over the official colors and the organization.  
"I talked about competitive events and star events, how people can compete in them and what they are," Gilliam said. "We also reviewed the purposes of FCCLA and the benefits for members and their families." 
The officers did activities with their groups as well. One was karaoke, with everyone competing in groups. It was a fun way for everyone to get to know each other a little better and to become more comfortable.  
"I think that karaoke let people express their creative side while learning the FCCLA creed," Kesinger said. "There was one group that started off not talking at all, but by the time they were done, they were all laughing together and getting along really well."  
Members also competed in a tower-building contest using marshmallows and uncooked spaghetti.  
"It was a very challenging way to think fast and communicate with their team members," sophomore Miriam Flores said. "Everyone worked together to build a strong tower that would not fall. I was so glad that we won."