The school added several new certification opportunities for students this year, including Restaurant Management. The course is taught by Family and Consumer Science teacher Chelsea Nelson, who has already been teaching the ServSafe course for the past several years. 
"Although I have experience as a ServSafe proctor, this is my first year teaching this class," Nelson said. "So far, the experience has been great."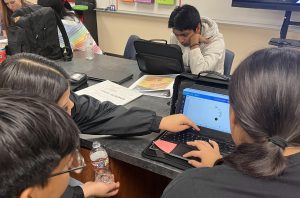 Students will receive their certificate at the end of the year after completing their training and passing the National Restaurant Association's accredited ServSafe Manager Certification exam.  
"The class is not hard at all, but I am kind of nervous for the end of the semester test," sophomore Ellie Pruitt said. "We're learning a lot of stuff, and I don't know if I'm going to remember it all." 
The students are currently creating marketing plans, advertisements, and logos for their own restaurants. Other classroom activities include management skills as well as basic cooking and culinary skills. Nelson said that the industry-based certification will ensure career readiness for students going into the food industry after graduation as well as students who already work in food service.  
"It does help with working in the food industry," senior Cynthia Sanchez, who currently works at Dairy Queen, said. "We are working on what we need to do to start our own business right now, and that will be helpful to anyone starting a business after high school."