On the first day of school, the Class of 2024 gathered together for their last first day.  
"It was a great start to the day, honestly," senior Ryan Brown said. "I didn't mind waking up early because it was a great way to start the year with my classmates and friends."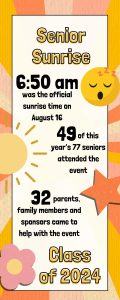 The senior class, class sponsors and senior parents all showed up in order to support the students in their final year. 
"It was awesome to see everyone come to be with us for our last first day," senior Alyncia Jackson said. "It was a great way to start the school year." 
Sponsors and parents served pancakes to everyone, and students ate their fill. 
"Last year I heard that the breakfast wasn't very good," senior Emma Cocking said. "But this year it was pretty good. The pancakes were great, and I thought the sausages were really good as well."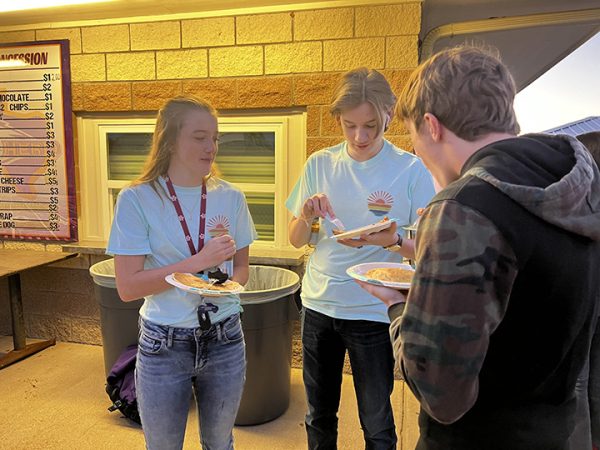 Maria Salazar, the head sponsor of the senior class, has planned many other events for the senior class with the help of senior parents. 
"I'm super excited for the things we have coming up," Salazar said. "This year is about making memories that will last, and I'm happy that I get to help make those memories." 
The senior class went all out for the sunrise event this year by order matching shirts that the class officers voted on. 
"I thought the shirts looked really good, especially for a shirt we got for a school event," Jackson said. "Now we need to see what our senior shirt will be." 
At the end of the event, the seniors gathered in front of the field goal on the football field for a class picture.  
"I thought it was great to take a picture of us all together for our last first day of school," senior Esmeralda Gonzales said. "It was a nice moment." 
After the pictures, class president Aiden Savage said a few words.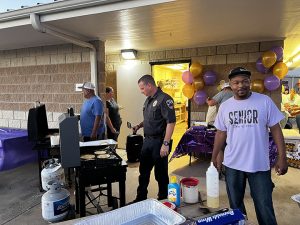 "It was cathartic to give one of the last speeches I'll give as class president," Savage said. "I'm excited to walk into this year and to finish it out with this group of people. It's like I said at senior sunrise. Most of us have been together since kindergarten, and even for those of us that moved in later, it feels like we've known them for longer. We've made it this far and now it's time for us to cross the finish line together. The senior sunrise was a great way for us to start the last year we have to be with each other." 
Salazar also gave a few words of warning to the students.  
"I told the kids that they need to be careful with drama this year," Salazar said. "Yes, this is the last year that they have together, but that means that they need to make it a good year together. That means staying out of drama with each other and just making fun memories together." 
The seniors are hopeful that the school year is full of more opportunities to make memories together. 
"I think this year is going to be great," Jackson said. "I can't wait for more opportunities to spend time with my classmates."