Friends is still a hit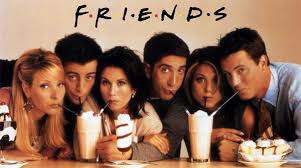 "We were on a break!" "How you doin'?" If you've heard these phrases, then you are familiar with the Television series Friends. For the last ten years, the show has been a global phenomenon. It still is; the show is now on Netflix and plays continuously on networks like TBS.
Friends stars Lisa Kudrow as Phoebe Buffay, Courteney Cox as Monica Geller, Jennifer Aniston as Rachel Green, David Schwimmer as Ross Geller, Matt Leblanc as Joey Tribbiani and Matthew Perry as Chandler Bing.
The show is a comedy series set in Manhatten about 6 young friends in the struggle to find success and happiness in life, but it is never that straight forward. They help each other find their way through situation after situation, all the while remaining friends and keeping each other laughing.
Friends is a great show for those who love comedy. The show is filled with jokes, and tons of humor. All ten seasons are now available to stream on Netflix