Wednesday heads to high school in new Netflix series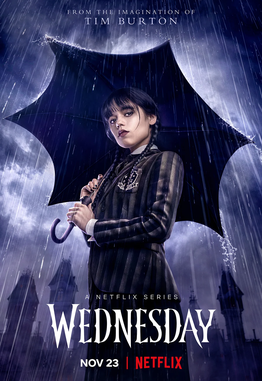 Award-inning American Author Tim Burton has come out with another hit show, this one titled Ẃednesday and based on Wednesday Addams from the Addams Family.
The cast was chosen so well, and the music, storyline and aesthetic were all perfect. We get to see a side of Wednesday we never got to see in the movies and a story where she is grown, going to a high school.
Wednesday has been expelled yet again from yet another school, so her parents decide it's time for her to enroll in the school they attended when they were younger. Wednesday is not a fan of the plan because she doesn't want to live in her mother's shadow. So of course, she immediately plans her escape. 
Her first attempt failed, but she met a boy named Tyler. When Tyler helps her try to escape again, she is almost killed by a classmate who claims she is a danger to everyone there. After being saved by a monster, a shocked Wednesday makes it her mission to find out the truth behind what is going on. 
It is an amazing show, undoubtedly the best new series on Netflix. I was shocked to find out who the monster was, what Wednesday's father did, and the consequences that happened because of it. If you haven't watched Wednesday, then are you even a horror fan?