Check out Eyes Wide Open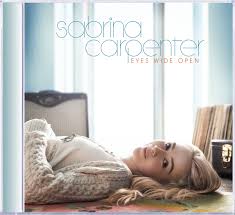 Sabrina Ann Lynn Carpenter is an American singer, songwriter, and actress who was born in Lehigh Valley, Pennsylvania, in 1999. Carpenter has won one award so far, which was an Radio Disney Music Award for best crush song in 2015. This year she is nominated for another Radio Disney Music Award for best anthem.
Sabrina Carpenter is a very talented singer and actress; in fact she would have to be one my favorite female pop singers, and one of my favorite actresses. The first time I had heard of Sabrina Carpenter was last year when I was watching Disney Channel's show Girl Meets World. Carpenter plays Maya Hart, which one of the main characters in Girl Meets World. After that I looked her up and found out she was also a singer, so I started listening to her songs. If I had to choose a favorite song by her it would have to be her latest song "Smoke and Fire".
"Oh, oh, our love is running into a burning building. Oh, oh, our love is scattered ash with a burnt up feeling. Feel the heat so we started running, you know you saw it coming. But the memories are still in my mind…burning like smoke and fire."~Smoke and Fire
Sabrina Carpenter released her first EP called Can't Blame a Girl for Trying, in 2014. It reached number 16 on Top Heatseekers Albums, and has sold 17,000 copies in the United States. Her first single "Can't Blame a Girl for Trying", is the lead single from the EP and was voted best crush song in 2015. In the spring of 2015, Sabrina released her first debut studio album Eyes Wide Open. Eyes Wide Open came in at number 43 on the US Billboard 200, and held that position for a week. Within the first week it sold 12,000 copies, and about 10,000 of those copies were sold in the US alone. Carpenter is now working on her second album. She released the first single from her second album "Smoke and Fire" on February 19, 2016.
Even though all of the songs on the Eyes Wide Open album are really good, my favorite song would have to be "Too Young".
"If I'm too young to fall in love… Why do you keep runnin' through my brain? And if I'm too young to know anything… Then why do I know that I'm just not the same? Don't tell me I won't. Don't tell me I can't feel. What I'm feeling is real, cause I'm not too young."~Too Young
In you are interested in purchasing Sabrina Carpenter's Eyes Wide Open album, it is available in stores, or on iTunes and Amazon.
Leave a Comment