Football behavior out of control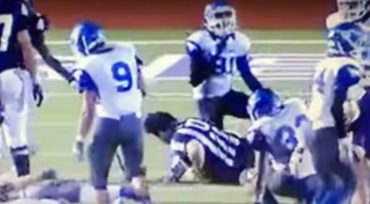 The San Antonio high school football official, Robert Watts, who was blind sided by two John Jay safeties,  Michael Moreno and Victor Rojas, during a game earlier this month, has been accused of calling the two players the N-word on separate occasions. Watts supposedly said the N-word once before the infamous hit and once after, according to four John Jay High School players and one person who was on the sideline.
Two John Jay players said Watts, angry with the way that quarterback Moses Reynolds threw the ball to him, confronted Reynolds and said: "N—–, throw the f—ing ball at me again." Immediately after the hit, Watts rose to his feet and confronted the team's starting running back, Trent Hobdy. As Watts confronted Hobdy, he said, "Did you hit me?" according to one of the  player's. Hobdy responded by saying: "You don't know who hit you". Watts questioned Hobdy again, asking, "Did you hit me, n—–?" according to the accounts of two John Jay players.
Watts is also accused of making offensive comments towards the Hispanic race. When Watts heard John Jay senior defensive lineman Sammy Alvarado speaking Spanish, Watts reacted by saying, "We're in America, speak English," according to the account of a John Jay player who said he heard the remark from Watts.
No matter what the allegations are about what Watts said in the way of racist comments, Moreno and Rojas hitting Watts was not acceptable. The the two players shows poor sportsmanship and could have done serious damage to the official. There are acceptable ways to handle officials that are out of line, and none of those ways involve a physical attack. Athletes have to learn to deal with rude and sometimes racist comments from opposing players and fans all the time. Learning to handle the pressure and frustration is a necessary tool for players, whether in little league or in professional sports. The way that players respond to the pressures separate strong-minded athletes with good sportsmanship from weak-minded athletes with poor sportsmanship. Moreno and Rojas deserve to be suspended from any kind of physical activity regarding UIL. In addition, Watts also deserves to be suspended from the Texas Association of Sports Officials (TASO) for his lack of professionalism.
Leave a Comment