Check out Hey Violet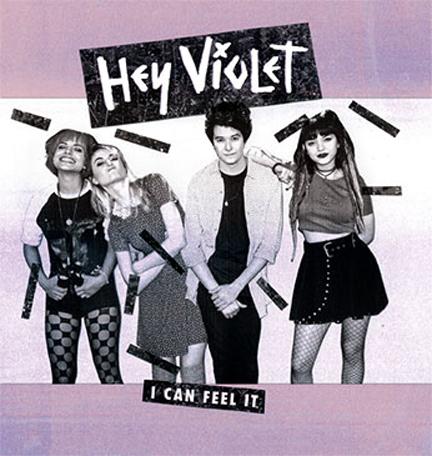 After recently being signed to 5 Seconds of Summer's Hey Or Hi records label, the band Hey Violet immediately released an EP (extended play) titled "I Can Feel It". With a mix of pop and rock, the EP is #19 in Billboard's Hot 100 Fest. To promote the EP, the band is touring with 5 Seconds of Summer as their opening act.
The EP consists of five punk rock songs. The two most popular song are "I Can Feel It" and "You Don't Love Me Like You Should". They are upbeat, dance-to songs, so if you want to dance, or throw a party, these song are perfect.
"Smash Into You" and "Sparks Fly" are more along the lines of romantic, gushy, lovey-dovey songs. So if you have a significant other, or if love songs are your thing, I suggest these songs.
"Can't Take Back the Bullet" is a breakup/rebel song. It's not sad and slow; it's more of a punk, happy song. If you're in a bad breakup and just had it, you should listen to this song while beating your ex boyfriend's/girlfriend's car. Or at least dreaming about it. Don't really trash their car. That would be wrong. And illegal.
In all, the EP is a big hit, the new mixture of music is sure to make it more and more popular. If you want a new genre of music to listen to, I recommend this EP. You can find their web page to buy the CD and Digital copy on iTunes (http://www.heyviolet.com/).
Leave a Comment