"Taken 3" showing signs of wear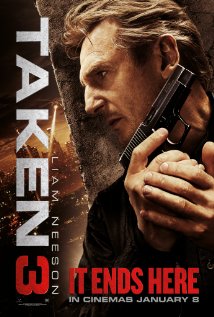 Liam Neeson once again saves the day in Taken 3, maybe in more ways than one – his ability to survive a car crash – TWICE! – creates some excitement in a storyline that is wearing a little thin by its third telling.
Taken 3 is directed by Olivier Megaton and stars Liam Neeson as Bryan Mills, Famke Janssen as Lenore, and Maggie Grace as Kim. It was released in January.
Taken 3 is touted as a PG-13 action thriller. It starts out with Bryan and his ex-wife, Lenore, enjoying a reconciliation when Lenore is murdered. Bryan is framed for the crimes and flees. He channels his rage and particular set of skills into hunting down Lenore's real killers, taking his revenge and protecting the one important thing left in his life: his daughter, Kim.
Maybe one of the craziest things about this movie is that no one is actually taken anywhere. The premise for this movie has apparently been stretched farther than it can realistically be stretched, and there is no one left for Neeson to save except himself.
The saving grace is that while the movie is predictable, it is still pretty enjoyable, even if it has gotten a little cheesy in this third run.