Cavalier pregame goes 3D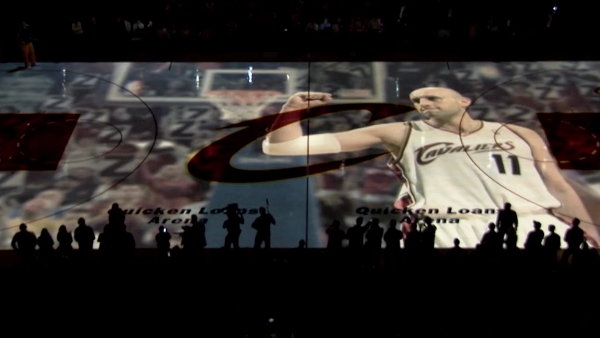 The Cleveland Cavaliers will welcome back its innovative pregame introduction that involves projecting 3-D images onto the floor, transforming the hardwood into a huge 94-by-50-foot screen adorned by eye-popping animations.
The Cavs first used the technology on a trial basis in March as a part of former Cleveland center Zydrunas Ilgauskas' jersey retirement ceremony. Cleveland's chief marketing officer, Tracy Marek, said the presentation elicited such a response that the team decided to make it permanent.
"It was wildly successful to say the least," Marek said. "The 3-D projection received more than 2 million views and was even aired on the "Today Show. We got an enormous amount of great feedback about the capability so when we started to roll into the season, of course we remembered that. We decided to purchase the system so we could use it more regularly."
The technology can do anything from making a court appear to have waves rolling underneath it to making it seem like every piece of the hardwood is being swallowed up into a giant black abyss.
3D court projections are dope and I think that more of the NBA teams should consider purchasing a court like this. What would be even more dope is if the Cavs actually got to play while images were projected onto the court.
Leave a Comment