The Jungle Book takes on a new look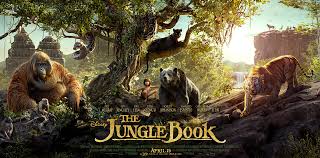 The Jungle Book has come back after almost 50 years, with Walt Disney using live action and incredible computer-generated images to bring a beloved story back to life.
The movie is beautifully animated. The point of view is set at Mowgli's eye level, allowing the viewer to better experience in watching the movie. Occasionally one of the animals will move it will seem a bit glitchy, but for the most part the visuals are incredible.   
The story is the familiar one, of course, and this new film follows it well. It is loosely adapted from Rudyard Kipling's book of stories—of Mowgli, the "man-cub" raised by wolves in the jungles of India. Threatened with death by the tiger Shere Khan, Mowgli, along with his paternal panther Bagheera, heads for a village where he might be safe. Along the way, they encounter such notables as Kaa the python, King Louie of the apes, and, of course, Baloo the bear.
If the 1967 version delighted you, you should definitely take the time to check out the new, more modern version. It is a hit.
Leave a Comment