Miracles from Heaven is a feel-good movie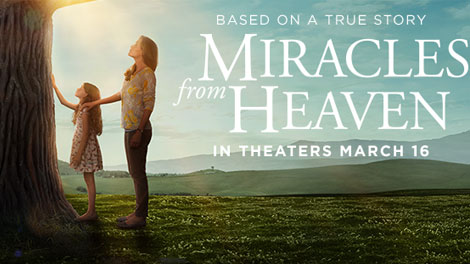 If you're in the mood for a religious, sweet story, Miracles from Heaven, is a must see. When Christy Beam (played by Jennifer Garner) discovers her daughter Anna has an incurable disease, she ferociously searches for healing and a solution. After Anna has a freak accident, an amazing miracle takes place, leaving doctors and medical specialists in disbelief. The best part is, it's all based on a true story.
Miracles from Heaven is based on the true story of the Beam Family. It all begins when  Anna (Kylie Rogers), the middle child of Christy (Jennifer Garner) and Kevin (Martin Henderson), is diagnosed with a rare and incurable intestinal disease. Christy becomes a determined advocate of her child's health and tries to find a solution. Seeing that Anna is not getting better, Christy begins to doubt her faith. Desperate for answers, she takes Anna to across the country looking for help, but no one has solutions. It will take more than doctors, though, for the miracle she is seeking.
The feel-good, touching story is built around a Christian family, therefore many felt they were being preached to throughout the film. While it may have been too much religion for some, others say they were sincerely touched by the incredible miracle that took place.
Whether you're a Christian or not, Miracles from Heaven is an amazing story that will tug on your emotions. It is an incredible story, making the movie hard to dislike.
Leave a Comment