Speech and debate team qualifies team for nationals
In their second year competing at the national-qualifying NSDA speech and debate tournament, the speech and debate team qualified CX team Evan Grisham and Kendall Morales for nationals, with Grisham also earning an alternate spot in Congress. Morales and sophomore Nadia Garcia were also Congress finalists.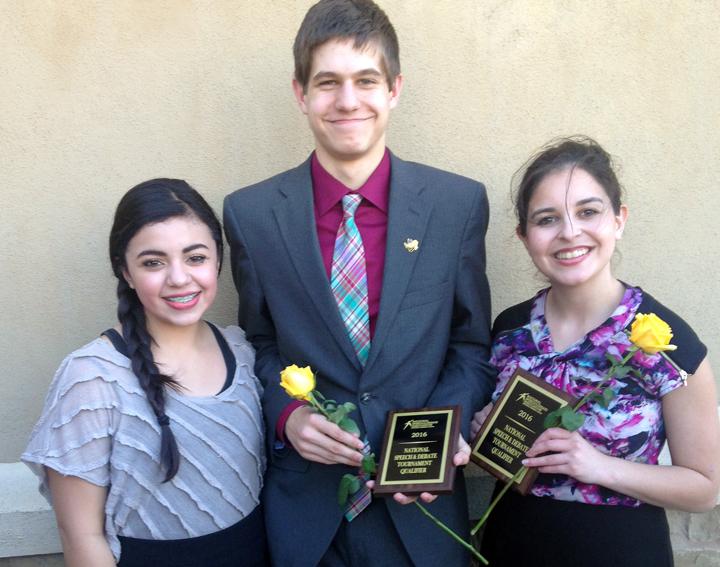 After joining the Yellow Rose district of the NSDA last year for the first time, the team competed with three entries. This year, they earned enough spots for 17 entries. All of the Buffalo entries made it several rounds deep in the double-elimination tournament.
"This was one of the best trips ever," Kendall Morales said. "Everyone did so great this year. I was so shocked that we qualified for nationals this year. I am grateful for my team, coaches and partner."
The tournament started off with two three-hour sessions of Congress. The Buffalo team had six students entered, three of them trying out the event for the first time. Three of the students – Evan Grisham, Kendall Morales, and Nadia Garcia – made finals.
"Competing was is so much fun," freshman Andrea Garcia said. "I met a lot of very nice people. At first I was so scared, but after the first competition I felt a lot better."
Congress was not the only new event that the Buffalo students tried. Sophomore Taylor Lack was trying her hand at LD debate while other students were trying Informative, POI, Domestic Extemp and International Extemp.
"I was scared to do LD this year," Lack said. "There were a lot of good people there, most of the nationally ranked."
Grisham and Morales will compete in June at the national tournament, which will be held in Salt Lake City, Utah. For now, though, they are just excited to have come out on top of the qualifying meet.
"Competing in NSDA was a lot of fun," Grisham said. "I was happily shocked with how well all of our teams did. I am proud that Kendall and I stuck it out and did as well as we did."
Leave a Comment