Ride Along Two not as good as the first movie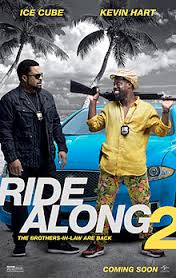 The sequel to Ride Along came out last month, featuring Kevin Hart and Ice Cube. In the last movie, Ben Barber, (Kevin Hart)  went on an adventure with James Peyton, (Ice Cube), to prove that a high school security guard was worthy enough to marry his sister. In the sequel, Ben and Peyton go on another mission, this one to to prove that Antonio Pope is actually a violent crime lord who rules southern Florida's drug trade.
I thought that this movie wasn't as funny as the first movie; it was still a hilarious film, but it just didn't hit home. Even though it wasn't as good as the first one, I'd say it was still worth the watch, and would be a good rainy day movie.
The movie was directed lazily and it could have better. I thought it was still a good movie but it was a only one time watch, definitely.
Leave a Comment