FCCLA puts together Shattered Dreams program
It will never happen to me. What are the odds of that happening to me? Teenagers make life choices every day. What happens when these choices can kill? The Shattered Dreams program is used at schools across the country to show students just a little of what the impact can be when there is a drunk driving accident. FCCLA students worked together to host the program in November.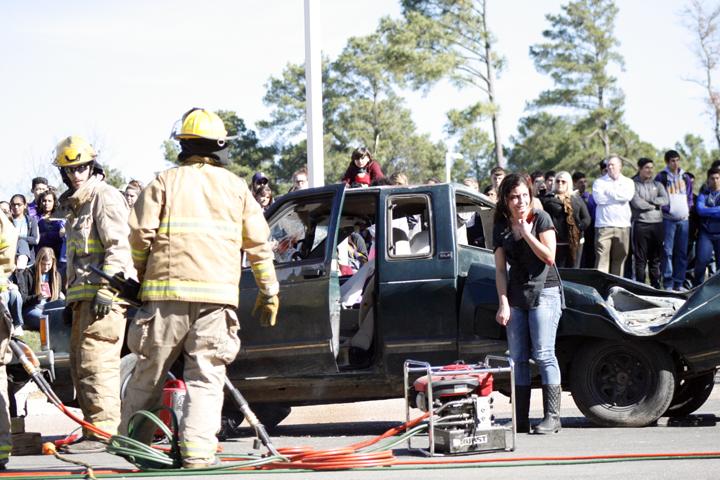 "My hope with this program is that kids realize that distracted driving has risks," FCCLA advisor Wendy Neyland said. "It could change a whole group of peoples' lives in a matter of seconds. I hope they take that responsibility seriously ; social responsibility is a major part of FCCLA."
According to www.driving-while-intoxicated.com, every fifteen minutes a teen is killed in an alcohol-related automobile accident. To give the students an idea of the numbers, one student was pulled out of class every 15 minutes throughout the day by The Grim Reaper (played by senior David McAlpine). Each time a student was pulled from class, their obituary was read over the intercom system and they were not allowed to speak with anyone once they returned to class.
"The most stressful thing for me was making sure I was going into the right class and grabbing the right people while making sure I wasn't seen," McAlpine said. "The fact that every 15 minutes someone dies is mind-blowing to me; I really hope that this program can change people's minds about drinking and driving."
As secretary Amanda Whitley read the obituary of the victims that had  died throughout the day, their posters and obituaries were hung in the main hallway.
"It was very hard for me to read all the kids' obituaries," Whittlesey said. "They are all kids that I interact with every day and having to read that was very hard for me. I would have much rathered read off their accomplishments."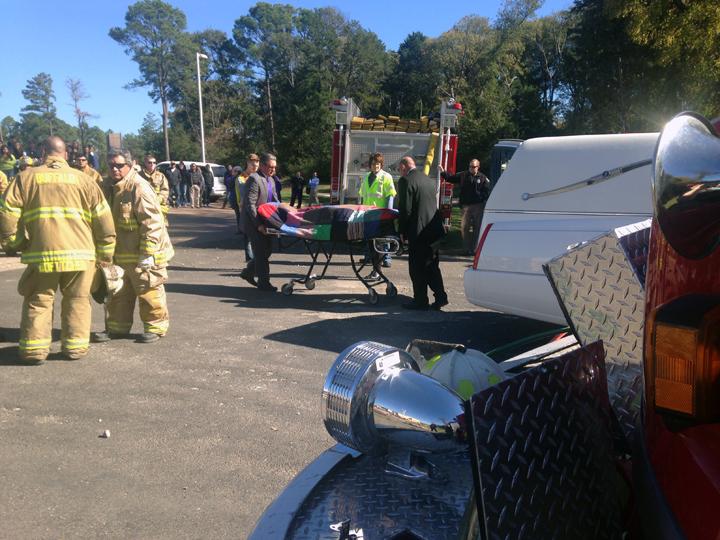 As a 9/11 call reporting the mock crash was played over the intercom mid-morning, the student body headed to the faculty parking lot, where screams and cries echoed off the woods surrounding the crash. Ambulances, fire trucks, and police cars, as well as a life-flight helicopter, were eventually joined by a hearse from the funeral home to transport the bodies – living and dead – to various places. Students who were "injured" were taken to the hospital, while the "dead" were transported to the funeral home and the "drunk driver" was booked in the Leon County Jail.
"When I looked around at our student body, I was shocked to see how our peers reacted," senior Brianna Johnston said. "I really hope that the mock crash opened their eyes. When they see their friends and classmates scream in terror like that, I hope they realize that it's a real thing that happens everyday."
The driver was senior Kendall Morales, who had passenger Evan Grisham with her. In the other car, senior Miryam Zapata was the driver, with passengers Lilah Molina, Madison Rowan and Gracie Davis, all sophomores. As screams echoed, Grisham laid still, motionless. As Justice of the Peace Lori Reed declared Grisham was dead, he was loaded into the back of a hearse.
"The hardest thing for me was being there and hearing all the screams and the cries and not being able to do anything about it. It was like I was asleep but completely aware of what was going on," Grisham said. "It was so real for us; I couldn't even move. I felt like I was actually dead. I was aware of what was going on, and as they loaded me onto the hearse it was so real. They strapped me down and all I could see was the ceiling."
Molina  was taken to the hospital by ambulance. Later that day she was declared dead.
"The morgue was so cold, and it all seemed so real," Molina said. "The hardest thing was hearing my mom come in and hearing her cry, but not being able to tell her I was really okay."
Morales was the drunk driver that day, and was given a series of alcohol level tests, which she failed, at the scene. She then was taken to the county jail and was fingerprinted and had to take a mugshot.
"It was hard to think that this happens all the time, and knowing that you are the reason of it all it  is  such a heavy  burden," Morales said. "Watching as your best friends scream and cry in pain and being lifeflighted because of what you did, it's so hard to live with that."
Leave a Comment