The Visit proves that all grandmothers are not sweet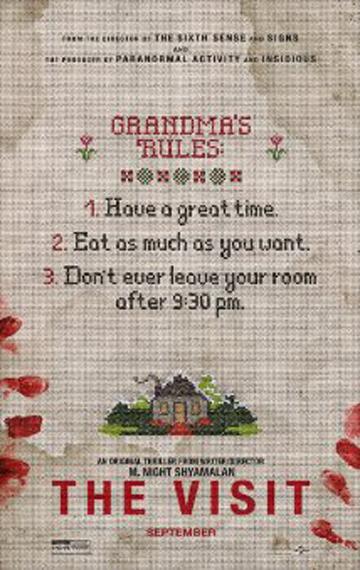 The Visit is the terrifying story of a brother and sister who are sent to their grandparents' Pennsylvania farm for a weeklong trip. It doesn't take long for the children to figure out that their grandparents are into something disturbing, and that their own chances of making it back home to their parents are growing smaller every day.
Critics have said bad and good reviews as Bob House says, "Before you know it, the zest of an original perspective explodes against the screen in predictably wincing and foul and violent ways." Steven Rae with a different perspective says, "Isn't the whole handheld "real-video" thing kind of old by now? Isn't the Shyamalanian-twist thing kind of old by now, too?"
The Visit is a terrifying, suspenseful movie. In a world where grandparents are supposed to be loving and a trip to their house should be fun, this is definitely not the ordinary visit to Nana and Pop Pop's house. The acting is terrific, and the movie is full of dark humor and plenty of scary moments.
Leave a Comment