Jersey Boys combines excellent music with a good story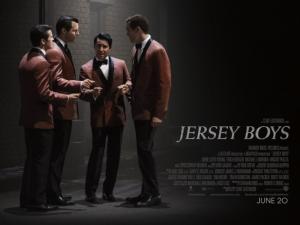 Jersey Boys is a movie directed by Clint Eastwood, based on the Tony-award-winning musical of the same name about four young men from the bad streets of New Jersey who come together to form the iconic top 60's group, Frankie Valli and the Four seasons. Their trials and successful careers are showcased by the hit 60s songs, "Sherry", "Big Girls Don't Cry" and "Walk Like a Man".
Frankie Valli is played by John Lloyd Young, Bob Gaudio is played by Erich Bergen, Nick Massi is played by Michael Lomenda, and Tommy Devitio is played by Vincent Piazza.
The story is narrated by Tommy DeVitio, who is in a group with his brother Nicky and their friend Nick Massi. The barber's son Frankie Castellucicco is already known around the town for his unique singing voice. One night the group attempts a robbery, but they are arrested. Six months later, after Tommy gets out of jail, he reunites the group, naming Frankie as lead singer, Frankie changes his stage name to Frankie Valley then later on to Frankie Valli. At a performance Frankie meets the woman who later becomes his wife; they have a couple kids. In 1990 rock and roll hall of fame the group is reunited and the movie ends with all four of the Four Seasons narrating "When everything was still ahead of us and it was just four guys under a street lamp."
This film is great for anyone who loves old rock and roll. The movie combines fantastic music with the real-life grit and grime of four talented young men trying to overcome their roots and their own problems to soar.
Leave a Comment