The Interview stirs up diplomacy problems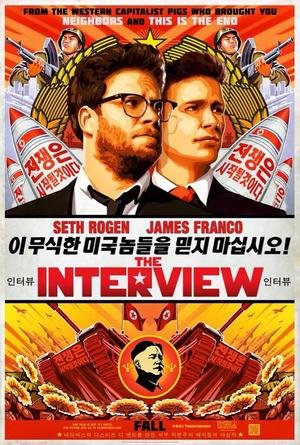 Are the entertainment industries taking things too far? With the new movie The Interview coming out, things are starting to get  tense. I mean, the whole plot of the movie is about killing the leader of North Korea. The studio is seriously begging for trouble. The stars of the movie, Seth Rogen and and James Franco, had to cancel all press appearances in light of the threats. Sony's computers were hacked and private information shared publicly. At some point, you would think Sony would put two and two together and just cancel the movie!
In the action-comedy, Dave Skylark (James Franco) and his producer Aaron Rapoport (Seth Rogen) run a popular celebrity tabloid show called "Skylark Tonight." When they discover that North Korean dictator Kim Jong-un is a fan of the show, they schedule an interview with him. As Dave and Aaron prepare to travel to Pyongyang, their plans change when the CIA recruits them, despite the fact that they are far less-than-qualified for the task, to assassinate Kim Jong-un.
Movie theatres are saying they aren't going to be playing the movies in theatres because of threats being made. Sony must want this movie pretty badly to willingly put their lives on the line to have a little bit more success.
UPDATE: The movie was released in some theaters and on streaming services. In the end, it likely will garner more money simply from the infamy it gathered before it's release.