Sleep when you can
Early-morning departure for speech meet leave students catching a nap on the way to the meet.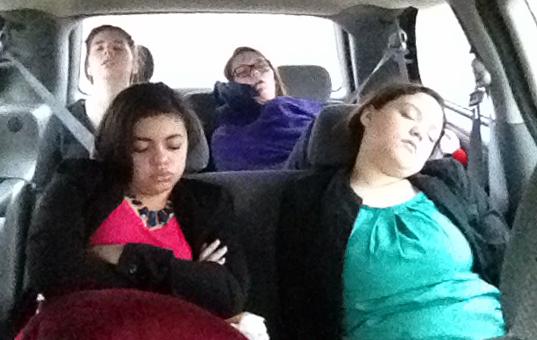 The cancellation of a planned speech meet in Elkhart last weekend had the team scrambling to find another option. The closest meet around was a two-hour drive away in Belton, but the team loaded up extra early and made the drive. Students caught up on their lost sleep on the drive over. While the teams made it on time, the director of the speech portion of the meet was not, and so the meet started more than an hour late.
It's disappointing, to say the least, to get up so early on a Saturday and drive so far only to have to sit and wait for the host school to get their act together," coach Melonie Menefee said. "If the late start would have been the only problem of the day, it would have been ok. But that was just the beginning."
The problems persisted throughout the meet, which was made up of mostly 5A and 6A schools.
"It was kind of disappointment. The school just didn't seem prepared," freshman Lilah Molina said. "They started an hour and a half late, and so we only had three rounds instead of four."
The judging pool was unorganized, as well. Menefee, who was signed up to judge CX, was never used to judge, while some of the judges who were used were not well-versed in CX debate.
"The judge in our first two rounds was not a CX judge. He was LD, which is a very different kind of debate," sophomore Evan Grisham said. "But, we did get a lot of well needed practice, so that was a good thing.
Abby Smith placed fourth in LD Debate after winning all three of her rounds.
"It was actually a pretty good meet," Smith said. "I didn't have some of the same difficulties as the CX debaters and I won all three of my rounds, so it was definitely a success."
Leave a Comment