"Get on Up" contains great message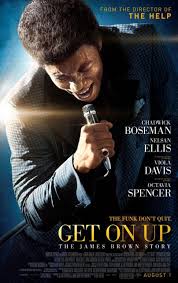 Get on Up is a great 2014 film. It was released August 1. The soundtrack was awesome, and the acting was awesome! Everything in it was amazing.
    Get on Up is a PG-13 biography about the Godfather of Soul, James Brown. It stars Chadwick Boseman as James Brown, who also played the main role of Jackie Robinson in the 2013 film 42. It also stars Octavia Spencer and Viola Davis, who both played as maids on the Help.
    Get on Up tells the incredible life story of James Brown, showing his journey from childhood to his evolution in becoming one of the most influential figure of the 20th century.
If are into old school music and dancing, then you will love this movie as much as I did; watch it. It's great, and it teaches viewers to shoot for that dream that may seem impossible, but is very much possible. Get on Up deserves at least 5 stars!
Leave a Comment