An Abundance of Katherines shows ability to change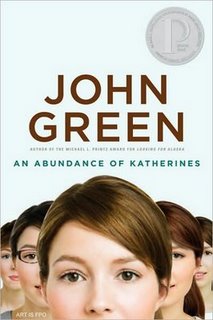 Everyone has their type. For Colin Singleton, type just happens to be girls named Katherine. In An Abundance of Katherines, John Green writes a thrilling novel about growing up and facing anxieties.The main characters are Colin Singleton, the anagram-obsessed main character, and supporting characters Lindsey Lee Wells and Hassan Harbis. The novel is set in Chicago and Tennessee
After Colin was dumped by K-19 – the nineteenth of the Katherines that he had dated since childhood – he and his best-and-only friend Hassan set out on a road trip which lands them in the miniscule little town of Gunshot, Tennessee. In Gunshot, he meets Lindsey Lee Wells – a definite non-Katherine –  who Colin ends up realising that he can like (maybe even love).
Colin and Hassan do not use the "F" bomb, but the word "Fugg" which, while it is not technically the "F" word, is still used a whole whole lot, even if it is a homage to the author of a book that the two characters have read.
The way that Colin changed his ways of his Katherine-only lifestyle is symbolic of being able to change anything in life. He is growing up, he just graduated high school, and he seeks to do something that no one has ever done before. His transition from his Katharine-only lifestyle was the head of it.
This is a great read. I give the novel 3 out of 5 stars.