OAP company attends clinics and master class
The OAP cast and crew ended last week with two clinics and a lock-in, gearing up for their district competition next week. The clinics are a way for the students to perform in front of an OAP clinician – someone who judges OAPs or has been very successful in their own OAP career – and receive feedback and ideas. The first clinic they attended was at Corsicana High School on Thursday. 
"Going to clinics is always a fun way to receive criticism," junior Emma Cocking said. "I think we also perform better when an outsider watches us. It gives us more of a live-show feel."
OAP directors like to attend two to three clinics each season to prepare for contest. Buffalo directors Katie Villareal and Melonie Menefee are no different. For their show last year, The Balkan Women, they attended three clinics – two before district and one before regional. This year, the Corsicana clinic was their first.
"Scheduling was hectic and different than any clinic we had been at before," Menefee said. "We felt rushed, but we got some good suggestions from the critic judge that we are now working to integrate into our play."
And why are the clinics so important to a competitive show? Menefee explains.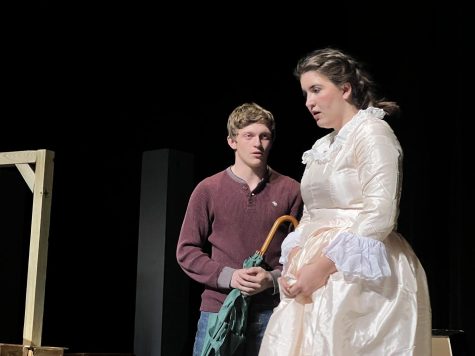 "Attending clinics give us new, creative ideas for our show and also help us drive home some of the things we've already been saying," Menefee said. "Mr. Villarreal, who works with us on OAP, calls it the '50-mile rule.' If we transport students at least 50 miles away from home to listen to an 'expert' give them suggestions, they'll take it as gold, even if it's the same thing we've been telling them. That's also why clinics are so crucial in the development of the show."
The first clinic went as well as it could with the company feeling rushed, but on Saturday, they had time to focus a bit more. The second clinic was run by Rick Garcia, a staple in the Texas high school theatre community, in Terrell, Texas. The clinic had two parts: the first was a master class in the morning, and the second was the actual clinic. 
"The master class was really insightful and it helped us to decide the path we wanted to take our characters in," senior Lindsey Hardin said of the first half of the day. "The improv work that we did with Rick really helped us with theatrical movements in the play. I loved getting a chance to work with him again before having to leave for college."
Buffalo drew the last performance slot at the clinic, so after the master class ended at 12:30, the company went to Film Alley for pizza, bowling and an arcade. 
"I haven't been bowling in a while so it was nice to relax before going to perform," sophomore Ashtyn Barzda said. "It wasn't all relaxing, though, because the pizza started to make me feel sick."
 The company played hard until 3:15 after having left Buffalo at 5:45 in the morning. Some had quick naps after they ran out of money on their arcade cards, preparing themselves for the all-nighter they would have to pull for the lock-in when they got home. 
"It was a lot of fun, and I had a nice nap afterward," said junior Aryanna Young. 
At 3:15, the company departed Film Alley for Terrell High School's performing arts center in order to load into the theatre at 3:30. When they arrived, the company practiced in a side theatre while another school finished their performance. 
"It was nice to see all of our hard work come out on stage," Cocking said. "We could really see the characters taking shape, especially in front of Rick."
After the performance ended, the company received their critique from Garcia. 
"Having Rick give us ideas is always scary because he pushes us so hard to do things we wouldn't be brave enough to do on our own," Menefee said. "He messes with our heads a lot, but in a good way."
After the critique, the company loaded up on the bus and departed for Buffalo and grabbed sandwiches and snacks before working on the suggestions the last two clinics had given them. By a little after 1:00 am, they were dragging and went to bed for a few hours until time to head home in the morning.
"We worked on detail work, like character walks and diction. Someone's alarm woke me up twice and the person slept through it." Hardin said. "It went off at 5:00 and we didn't have to leave until 7:00, so it was a little annoying, but overall a fun experience."
The company will perform its show, The Ballad of Maria Marten, at Teague High School on March 8 for the district contest. A community performance date will be announced soon.