Student Spotlight: Jaycee Harris
Moving from a big town to a small town is never easy. Getting used to a new environment and trying to make new friends is difficult. However, senior Jaycee Harris made it look easy.
"Moving was not easy for me," Harris said. "It's my last year in high school. I have moved from school to school for many years. I am glad I moved my senior year to settle down in a town one last time before I graduate."
Harris stays busy with dual credit classes and her sports. She plays basketball, volleyball and golf. She has a strong passion for volleyball, which her mom, Judith, coaches, and said she was recently offered a volleyball scholarship from West Clifton University, Arizona University and Montana State.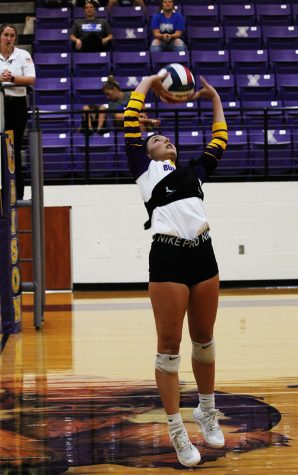 "I have not decided whether I will take the scholarships or not," Harris said. "I have a great love for volleyball. I'm just not sure yet if I want to keep playing after high school."
When Jaycee arrived she was immediately welcomed by her volleyball teammates and her classmates. Many of them describe her as a fun, encouraging, and mindful person on the court.
"Jaycee is a very outgoing person in volleyball. She always encourages the team," senior Avery Best said. "She brings the team together on bad days."
Harris said she loves spending time with her family and has appreciated their support.
"My family is always there for me," Harris said. "They always support me through sports and school. My family is the most important thing to me, and I love hanging out with them."
Harris was recently recognized for her accomplishments on the volleyball court during Senior Night but said she is not through making her mark.
"I want to have an enjoyable senior year," Harris said. "I look forward to the sports I still get to play, and I hope that it'll be a good year."