Lane Freeman named as KBTX's Classroom Champion
Senior Lane Freeman was featured on KBTX last week as a Classroom Champion. His achievements in sports as well as his current standing as second in his class helped earn him the honor.
Lane's main sport is football. He's been on varsity for several years and played his last home game Friday night, with a victory over Florence, 48-0.
"I was very nervous when I was first told I'd be on varsity," Freeman said. "It also made me enjoy the game more. But sports are important for pushing yourself and for motivation."
While Freeman has also played football and basketball and competed in track, he said the thing he puts above all other things is his family.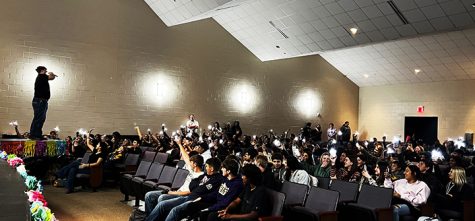 "My family is very important to me, and I enjoy spending time with them," Freeman said. "They have always been there for me and have shown me support."
Sports are not the only thing that take up Freeman's time outside the classroom. He is a part of 4-H and FFA and shows goats at the Leon County Livestock Show each year; he is also a part of NHS and the Spanish Club. For the Hispanic Heritage program earlier this month, he sang a solo, earning the applause of his classmates, rock-concert style, complete with cell-phone flashlights.
"I was very nervous to sing," Freeman said. "It felt really good when everyone told me I did a good job, though."
Freeman has been accepted to A&M University and has a goal for this year of increasing his GPA to valedictorian level.
Freeman said his advice to underclassmen football players would be to "always listen to your coaches and try your hardest."