"Drills with Mom" is a hit with players
Practice full of laughter and fun
The JV and Varsity boys had an interesting football practice earlier this week. The players and their moms practiced together, with moms suiting up with pads and helmets and spending some quality time on the field with their players.
"I enjoyed doing Drills with Mom," freshman Brody Duncan said. "I think it brought us together not only as a team but also as a family because we got to learn a little bit of each other and their moms."
There were plenty of laughs throughout the evening as the moms honed their tackling skills, practiced catching passes, gave punting a try and ran drills.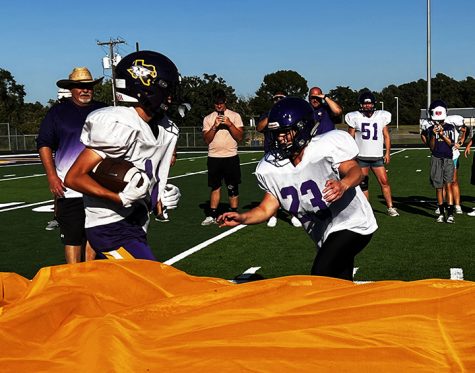 "What I enjoyed most was spending time with my team and my mom," junior Payton West said. "There were a lot of moms there and it was a lot of fun."
While the evening gave player moms a better idea of what their sons do on the field every day, the bonding time was the highlight of the event.
"I guess the best way I could describe it is, it was exciting," West said. "I also think it brought us closer as a team"
Some moms had two players and some moms were not able to attend, but everyone had a good time.
"Not everyone brought a mom, but they still enjoyed being there with the team and just having fun with everyone," Duncan said. "I would really love to have another practice like this one."