Seniors continue bonfire tradition
Event moves to former field
The annual bonfire switched locations this year to the old football field. The change in venue did not stop fans from coming to watch, braving sticker burrs and mosquitoes to watch the performances and the lighting.
"I really enjoyed this year's bonfire," sophomore Raegyn Dennix said, "but I thought it was kind of small. I hope they use more pylons next year."
While everyone gets to attend the bonfire, only the seniors are allowed to build it. They spend the day painting pallets and stacking them to make as large of a fire as possible.
"It was fun because we got to build the bonfire and climb around it, and we also got to spend more time together as a class and just bond," senior class president Rodrigo Carrillo said. "We had groups of people haul trailers to go get more pallets while the rest of us were building the bonfire."
Carrillo and senior classmates and teammates, Lane Freeman, Jacob McGill, Zayne Johnson and Gavin Pruitt lit the bonfire.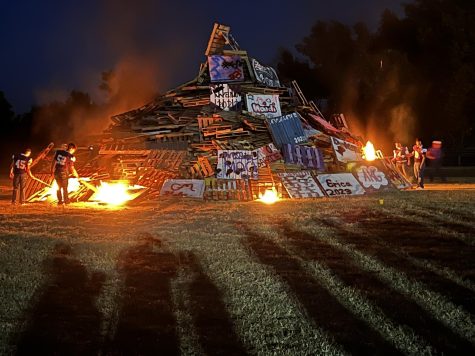 The Bison Belles performed a kick routine to "Country Girl (Shake It for Me)" by Luke Bryan. They were led as always by their captain, senior Pari Jariwala, and their lieutenant and second lieutenant, juniors Abby Sandate and Nayeli Ayala. The team had been working on their routines all week.
The Bison Brigade also performed. They were led by drum major and assistant drum major juniors Emma Cocking and Mildret Carrillo as they performed a cadence to accompany the cheerleaders and the song "ESPN". They also performed the school song.
The cheerleaders performed to a band cadence and led the attendees in a cheer that they call "Bison Pride". They were led by their co-captains, seniors Alani Jones and Avery Best.
The bonfire was arranged by Coach Judith Harris, who in addition to being the head volleyball coach is the senior class head sponsor. There were three groups of seniors: the morning-shift kids, the afternoon-shift kids, and the all-day kids. Certain requirements had to be met for all shifts, including maintenance of passing grades and good behavior.