Freshmen attend county health and safety fair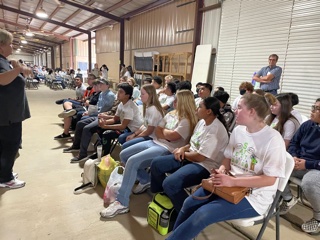 The annual Leon County Health and Safety Fair was once again in-person at the Expo Center after a year of traveling to individual schools due to COVID. Returning to the larger venue meant that more activities were available for the students.
County extension agents led a drunk and driving session. Students experienced what it might feel like to be drunk with special goggles that simulate being intoxicated.
"When I put on the goggles it looked like I had just spun around a lot of times," freshman Kayla Padron said. "When they gave me a high five, I completely missed."
Other stations covered food waste and bus safety. An activity called Let It Go invited students to write any negative thoughts they were having on a paper plate, rip them up, and throw them away.
"When I got to that booth I knew I had some things to get off of my shoulders," freshman Ashtyn Barzda said. "I wrote some things on the plate and then ripped it up gladly and threw it in the trash can."
Two police officers led a session discussing how to properly handle the situation when pulled over by a cop as well as the process of what happens if a driver is drinking or on drugs behind the wheel. They gave some examples on what they do when a person is drunk.
"The first example they did was to stand on one leg for 60 seconds," Natanael Montano said. "Then they did one with a pen that you were supposed to look at it with only your eyes and you couldn't move you head. They did a good job of showing us ways we should stay safe and out of trouble."