High School Musical now on Disney+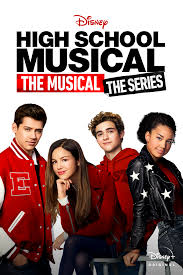 If you fell in love with High School Musical: The Musical: The Series, then be prepared to get ahold of that same feeling for the second season. This Disney+ original series came out on November 8, 2019, with new episodes released every Friday.
The show brings us back to the classic Troy-and-Gabriella love story; however, the drama intensifies when a love triangle is introduced to the plot. Ricky (Joshua Bassett) attempts to win back Nini (Olivia Rodrigo) after failing to say the "L" word. EJ (Matt Cornett) and Gina (Sofia Wylie) make great efforts to stop them from reconnecting. While all of this is going on, the theatre class works on their production of High School Musical. Nini, Ricky, EJ and Gina, as well as other characters, audition, but few are satisfied with their assigned roles.
Disney is known for its kid-friendly programs, but this series is a whole different approach to PG. I was caught off-guard when I heard several scenes with curse words throughout the show. Additionally, Disney has made progress by adding more openly gay characters to their shows, including Andi Mack and HSMTMTS. 

Despite some cringe-worthy dialogue and several aggravating scenes, the show is pretty good. The first season left off on a cliff hanger, so I'm really looking forward to Nini's important decision and how it's going to affect the next season. I strongly recommend that anyone who loves High School Musical watch this show. Although it has nothing to do with the original movies, it's still worth watching.