Gregory Maguire Puts Twist on Famous Fairytales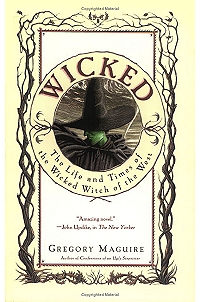 The Wicked Witch of the West in The Wizard of Oz was one evil chick. Viewers wondered for years what made her so cranky. Gregory Maguire's book Wicked provides all of those answers and more.
Wicked is the story of Elphaba Thropp, daughter of Munchkinland's Frex and Melena Thropp, better known as the Wicked Witch of the West. In the book, Elphaba is a social outcast because of her green skin and is even hated and feared by her own family. Melena has another daughter named Nessarose and a son named Shell.
Fast forward to their crazy college years: Nessarose is religious and very spiritual, much like her father, who is an unionist minister; Elphaba resents her father for showing favoritism and making her a special kind of shoes. Both girls attend Shiz University, where they must face the manipulative headmistress Madame Morrible. Elphaba becomes friends with many different people, including a spoiled girl named Glinda. Elphaba and her friends all must discover the secrets that Madame Morrible is hiding and survive the secret police set up by the dictator Oz. Also, her obsession with a certain pair of shoes will lead her down a dark path which will carry her into nasty and unknown territory. She becomes a misfit, leading her to become more than a little wicked.
Gregory Maguire has published many books about the untold stories of Oz. His writing is whimsical and sophisticated. Wicked is one of those books the reader never wants to put down. It is adventurous and colorful, just like nearly all of his books. Maguire's stories elaborate beautifully on the fairy tales we have all grown up hearing. There is also a sequel, Son of a Witch. Maguire is an amazing writer who I would recommend to anybody looking for a twisted fairy tale.