"Inkheart" is a book about books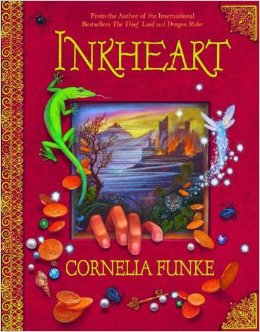 Inkheart is a book about books, where Mortimer has the ability to conjure characters out of a book by reading from it.
The book is about Mo, who bought a book for his wife at a second-hand bookstore and read it to her. When he start reading, the baddies from the book come alive, sending his wife into the book and leaving Mo and their young daughter behind.
I think that where Cornelia Funk went wrong with this book is the time frame. Mo's occupation of a book binder is a little outdated, and he and other key characters speak with very formal, old-timey words and phrases. They live in a country house – mostly unchanged by technology – yet Mo owns a cell phone.
While this is fantasy, the villains are really quite wicked, and Meggie is often in mortal danger. There's villainy here that some readers find enthralling, while others are disturbed. Book-loving readers will enjoy the literary references and celebration of books in the lives of the heroes.
Despite minor flaws and a good bit of violence, the novel captures the reader's attention and leaves them thinking about the story long after the book is finished.
Leave a Comment