Tammy set for DVD release next month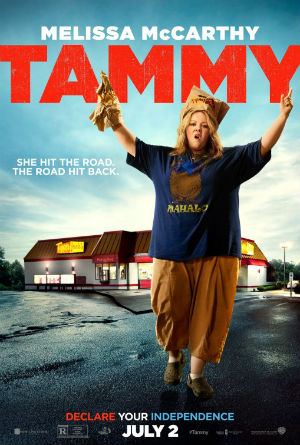 Tammy is a very funny movie. It will have you laughing like no other! There was so many hysterical parts in it that the audience around me had repeated multiple times after the movie had ended. The development of the movie was created a great pace.
Tammy is a rated-R comedy directed by Ben Falcone starring himself and  Melissa McCarthy, the producer and co-writer. One may recognize Melissa McCarthy as Diana from American crime comedy, Identity Thief. In Tammy she has the leading role as Tammy and acts just as wacky as she does in the film Identity Thief. It was released this summer on July 2nd.
Tammy is about an overweight, middle-aged woman who, after hitting a deer, and subsequently being late for work is fired. She makes her way home to find her husband having lunch with his girlfriend. Ready to get out of her small town, she hits the road, taking her profane, hard-drinking grandmother along to help finance the trip. On the way, though, she finds out how much she has in common with her grandmother and finds a way to see the value in herself, fat or not.
Surprisingly, along with all of the knee-slapping humor is a pretty good allotment of introspective, touching moments. It's not the deepest movie ever shown, but for a comedy, it is full of sobering moments, as well.
This movie is definitely worth a view. It was a summer release, so may be hard to find in the box office these days, but it will be released on DVD next month. Watch for it!
Leave a Comment