FCCLA and Leon County first responders host Shattered Dreams
I'll never drink and drive, I'm not that stupid.
This is something every high school student says when asked, yet one person dies in an alcohol-related crash every 52 minutes. The Shattered Dreams program is designed to give students a realistic perspective on what happens when someone who drink chooses to drive.
Shattered Dreams is a national program that comes with a dramatized crash scene of an alcohol-related crash. Local fire departments, police and EMS all take part.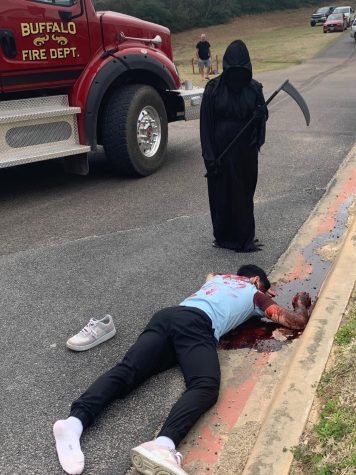 "This had been something we had done many years ago and I knew it was something this group of kids needed to see," FCCLA adviser Amanda Harter said. "FCCLA put this on and all the kids involved were in traffic safety groups and different STAR events in FCCLA."
Senior April Martinez, junior Rodrigo Carrillo and senior Eddie Aguilar all played victims in the accident. Two of them were dead in the car, and Aguilar was ejected from the car.
"At first I didn't think anything of it, but after a while of lying there acting lifeless it was kind of scary," Aguilar said. "Being covered and put in a body bag was something I never wanted my parents or loved ones to see. I think that's why it's good for us to see the consequences of being under the influence of alcohol and not wearing a seatbelt."
Senior Hannah Travis and school secretary Jaylee Cleveland helped with the makeup and wounds. Once everyone was set in the cars and in their places, the student body flooded the scene and the action began.
"I wasn't that nervous at the beginning because I knew it wasn't real," Martinez said. "Then I heard the siren and the screams, and I began to freak out. When I was placed in the body bag, it was hard to breathe so I had to close my eyes to relax myself."
Senior Emma Adams, sophomore Cynthia Sanchez and juniors Alani Jones and Pari Jarawla all played injured victims. Pari was life-flighted and the other three were put in the ambulance.
"Once I saw everyone start coming out and saw the EMS pull up my heart started pounding," Sanchez said. "I've never been in a car accident so I didn't know the extent of what happens, but it was kind of scary even though it was fake."
In both cars, the drivers were taken out and arrested and put in the back of cop cars. Senior Addison Lathrop and junior Shelby Johnston played those roles. In Johnston's car, the passenger side door had to be cut off and the dash had to be lifted off their laps.
"Halfway through I "passed out" and kind of closed my eyes but still saw some stuff," Jariwala said. "I saw them take the jaws of life and lift the dash off of my lap and that's when it hit me, that they were fixing to lift me up and put me in a helicopter."
After everyone was out of the cars and the hurt victims were in the ambulance, all the dead victims were declared dead by Justice of the Peace Lori Reid and placed in the back of the hearse. After the wreck was over the students made their way back to the gym for an assembly.
All the people who were a part of the accident came out on the floor and introduced themselves. And a traffic safety organization came and spoke. A mom who lost her child in an alcohol-related crash spoke as well.
"I think the thing that got me the most is when the mom who lost her son spoke," sophomore Alyncia Cumby said. "It really hit hard that what we just did actually happens all the time, which was why it was so important to me to take it seriously."