Duck Dynasty makes the music scene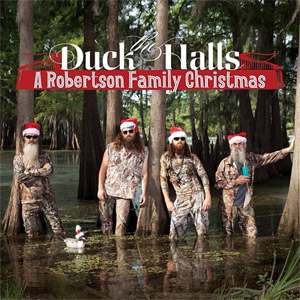 If you're a big fan of A&E's reality series Duck Dynasty, then you'd better get your wallet out. Duck The Halls: A Robertson Family Christmas is something that you don't want to miss.
    Even if you're not a fan of Duck Dynasty, you'll still enjoy this Christmas album. The album also features the highly-known artists, Luke Bryan and George Strait. The collection includes many traditional carols such as "Away In a Manger"  and "I'll Be Home For Christmas" .
    Uncle Si uses his own special brand of humor and entertainment when he presents songs like "You're a Mean One, Mr.Grinch" and "Rudolph the Red-Nosed Reindeer".  Willie wrote his own version of "The Night Before Christmas" read by Uncle Si. "Merry Christmas to all and to all a good night, Jack!"
    The whole Robertson family sings "Silent Night". This CD is full of Robertson family fun. The CD booklet includes the lyrics and a family picture of Phil and Kay Robertson with their children, grandchildren, and his brother Si.
    As seen on the TV series' Duck Dynasty, Phil ends the CD with prayer and Willie shares his parting thoughts. "Wishin' you a hairy Christmas/ And a happy, happy, happy New Year". (from "Hairy Christmas" sung by the Robertson men)
Leave a Comment