Freshmen attend health fair
Program includes presenters from 4-H, FFA and FCCLA
The Leon County Expo Center hosted a health fair for freshmen and sixth graders across the county on Tuesday. Multiple topics were covered, including drunk driving, ATV safety and the ins and outs of riding in an ambulance.
"My favorite station from the health fair was definitely the drug testing station," freshman Sayni Jones said. "Not only did we learn about the test people get made when pulled over for drinking and driving, but we also got to experience what intoxicated people see through goggles. It was fun being with my friends and doing hands-on activities and learning new things."
Other topics included domestic violence, car safety, human trafficking, CPR, and mental health. Presenters taught students what to do in an emergency.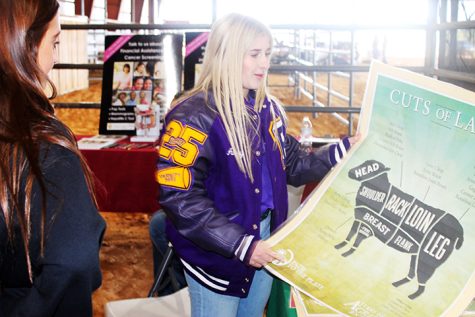 "My favorite station was the one with the two local ladies who are with the domestic violence program for Leon County," freshman Hector Carrillo said. "They both taught us about healthy and unhealthy relationships. That it can happen with a significant other, family, or anyone you have a relationship with."
At the CPR station, students learned the types of CPR to give a person depending on if they are an adult or infant or child. FCCLA, FFA and 4-H students were presenters at some of the booths. And even the adults there as group sponsors learned new things and enjoyed the presentations.
"My favorite things were that the students got to talk to our local DPS officer, especially about human trafficking. Domestic violence was one of my favorite stations, too, FCCLA adviser said. "We got to know the local ladies who live here in Buffalo, and it was good that students got to meet all these people who can help them and make them feel safe to live in this county."