FCCLA students qualify for state competition
Despite the cold weather and school shutdown, FCCLA members traveled to Galveston for their regional competition last week. Multiple teams qualified for state competition in Dallas on April 7-9.
The FCCLA Region conference is a three-day event where students compete in STAR events and attend general sessions.
"I've been competing in STAR events since freshman year, but this has been my favorite year," senior Saloni Jaiwala said. "It was fun to hang out with my friends and to receive first place."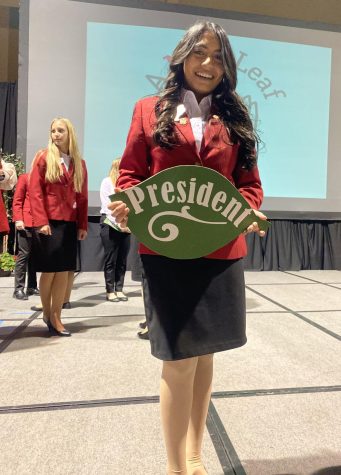 Several teams had to make some last-minute changes to their scripts and they also had to cut speeches to stay under the ten-minute mark.
"Fixing the script before competing was the biggest challenge," senior Hannah Travis said. "My team was really nervous, but once we entered the room, we began to feel confident."
For the next month, FCCLA members will make improvements and alterations to their projects to prepare for state.
"We have been working on fixing the projects based on the rubric and making changes to our FACTS board," adviser Chelsea Harter said. "We are also adding characteristics of trees and leaves to fit the theme, and we are working on our scripts."
Region President Shelby Johnston and region officer Pari Jariwala had the opportunity to run for new officer positions. Johnston will be Vice-President of Competitive Events and Jariwala was named the new 2022-2023 Region IV President.
"I was expecting to get competitive events," Jariwala said. "When they were announcing the officers, I thought they forgot me, but then I realized that there was one more position, and that was President."
With the help of FCCLA advisers Amanda and Chelsea Harter, they will have the chance to make it to Nationals in San Diego in July.
"I'm super excited to have the opportunity to go somewhere that I've never been before," senior Emma Adams said. "I would love to travel with all my friends and meet new people from around the country."