Marvel film features Asian lead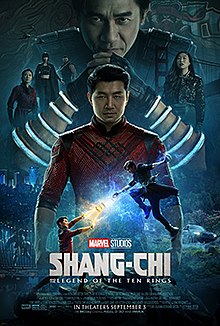 The latest new marvel movie was released to fans on September 3, 2021. Shang Chi and the Legend of the Ten Rings became the first Asian lead film produced by Marvel. It's a strong debut for a new hero, injecting diverse blood into the Marvel Universe and showcasing some of the best choreographed action scenes ever before seen in a Marvel film.
This film was directed by Destin Daniel Cretton. Starring in the movie was Simu Liu who played the role of Shang Chi, Akwafina who plays the role of Katy, and Tony Leung Chiu-wai who plays the role of Xu Wenwu. The movie falls under the genre of action and fantasy.
In the movie, set thousands of years ago, Xu Wenwu finds the ten mystical rings that gave him immortality and power. Wenwu uses the rings to fight off armies and kingdoms, however, he later abandons the organization after he falls in love with his wife Ying Li. They both end up having Shang Chi and Xailing. At the age of fourteen, Shang Chi begins to train in martial arts and is sent to murder leader of the Iron gang. Traumatized from fulfilling his mission, Shang Chi decides to escape and move to San Francisco. Years later, Shang Chi is drawn into the web of the mysterious Ten Rings organization once again. There he must confront the past that he thought he had left behind.
Overall, this movie was very entertaining. It had many action scenes that got viewers intrigued. It's story and plot was very interesting and different from all the other Marvel movies. It also had many funny scenes that made viewers laugh. This movie was definitely worth watching.