Bison fall to Crockett
Despite hopes of improving their record, the Buffalo Bison were defeated by the Crockett Bulldogs last Friday night. With the loss, the Bison move to 1-2 on the season. They will travel to Teague for their first district game on Friday.
"I wished we had performed better, but I guess we weren't prepared," sophomore Maddox Hardin said. "I know we'll do better against Teague."
On the eve of the 20th anniversary of the 9-11 attacks, the pre-game show honored first responders and included a moment of silence while a giant American flag was displayed on the field.
"It was truly inspiring and I was happy to be a part of it," junior Shelby Johnston said. "It's a sad memory, but it's important that we don't forget it."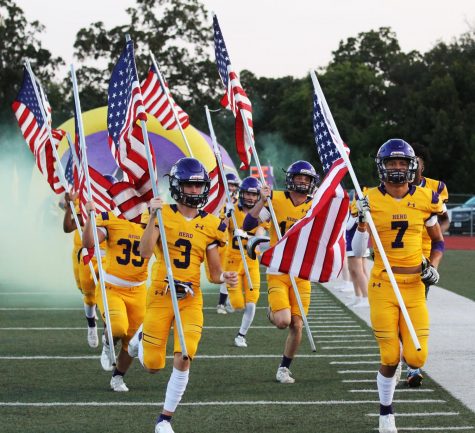 Once the football players entered the field, it was game on. Both teams struggled to make progress in the first quarter, but there was a fumble recovery from the Bison.
"From the beginning, I knew this wasn't going to be an easy game," junior Rodrigo Carrillo said. "We were going to have to play harder."
During the second quarter, the boys showed off their skills Sophomore and quarterback Aiden Savage threw an 18-yard touchdown pass to junior Kannon Brantley, then another touchdown pass to junior Kyle Harrison. The Crockett Bulldogs were not ready to give up, though, and they responded with three touchdowns.
"I believe I could have done better, not just me but the whole team," Savage said. "We need to improve our communication."
After halftime, the boys returned to the field, prepared to make a comeback. There was not much action during the third quarter, but there were strong tackles from juniors Carrillo and Lane Freeman.
"They definitely had some stronger players," Freeman said. "It was a challenge, but we really pushed ourselves."
In the last quarter, the Bison made their way to the end zone for three touchdowns; however, the Bulldogs ended the game with four touchdowns for a final score of 42-59.
"There were a lot of mistakes that we could have prevented," junior Abel Salazar. "All we can do is work on it for our next game."