OAP competes at Regionals Friday
After a successful performance in Bi-district, the One Act Play cast and crew will be advancing to regionals in Houston on April 16. The students traveled to Cameron High School in March for their competition, receiving ones from all three judges and placing first overall.
"I was honestly stunned when they called out Buffalo for first place," junior Ashley White. "It was unexpected, but I'm really grateful to perform this play again."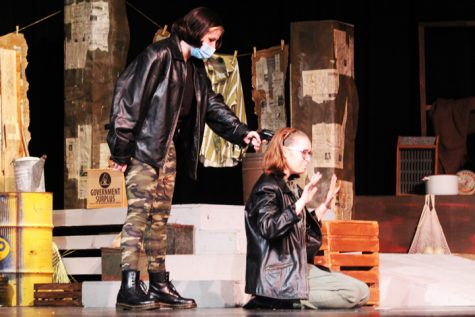 The group is preparing for regional competition by making adjustments suggested by the judges at both district and bi-district and brainstorming for ways to make things even better.
"We take the critique sheets from all of the judges in our previous levels of competition and discuss the comments," director Katie Villarreal said. "Sometimes we take the suggestions from those critiques, sometimes we don't. I, myself, prepare for serious competition in a very superstitious way."
With their win comes continued worries. Director Melonie Menefee said one of her biggest concerns all season has been COVID and how it could affect the production if one of the cast members were to be quarantined.
"Someone getting COVID was an ongoing fear and it still is," Menefee said. "Conflicts with other activities are a challenge, as well – livestock show and area track all in the same week means lots of juggling for everyone."
In addition to the group's top placement, junior Omar Almeida received an All-Star cast award, Payton West received a Tech award, and Ashley White won one of two top performer awards.
"It was an honor to get awarded with an All-star cast award," Almeida said. "I've been working nonstop and I'm proud to be recognized for it."
The group has to place in one of the top two slots out of eight competitors at regional to advance to state.
"Everyone has been doing great this year and I'm confident that we'll advance," Villarreal said. "We can't have any mess-ups, but I believe in my kids and I know they'll do great."