Field event competitors advance to area
Track season was cut short last year due to COVID, closing down schools and activities right after the school hosted an invitational just before spring break and well ahead of the district meet or any chance to advance. With hopes that there would not be a repeat this season, the athletes set out with goals of placing high enough at district to advance to area this spring.
"We had early morning practices and after-school practice as well," freshman Cynthia Sanchez said. "We worked hard each and every day. Nobody ever really complained because we all wanted to advance and do our best."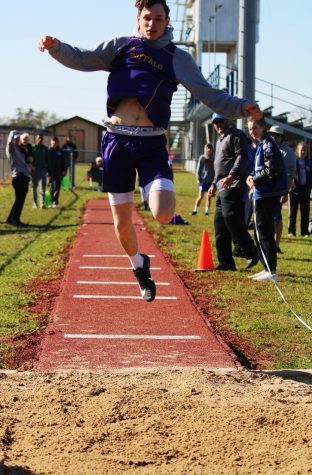 Day one of the district meet ended with three people qualified to advance to area in field events. Freshman Emma Cocking advanced in triple jump, junior Ethan Williams in Triple and Long jump and senior Asa Henson in Shot Put.
"I was so excited and proud of myself because all my practice was showing when I needed it to show," Cocking said. "I am going to work hard and make it as far as I can. I really want this."
Running events saw competitors in finals on day two, but the Bison and Lady Bison fell short of advancing to area, some by only a tiny margin.
"I placed sixth in my race and I missed it by less than a few seconds," sophomore Alondra Dominguez said. "I was upset, but I was proud of myself for working so hard. I wish I had a different outcome, but I am ready to work harder next year."
The JV team members each placed in their events. Alyncia Cumby placed third in discus, Morgan Sellars fourth in discus and seventh in shot put, Daniela Gonzalez placed eighth in shot put and Molly Hirsch placed third in high jump.
"We were all glad we placed in our events, and I was really excited I placed in both my events," Sellars said. "I think we ended the season as hard as we could."
The three competitors moving on to area next week are looking forward to their shot at regionals.
"I am very excited to compete at area," Henson said. "I worked long and hard, and I want to go far my last year."