OAP students work hard at lock-in
Theatre students made up for rehearsal time lost during the winter storm with their annual lock-in. Because they had lost so much time the previous week they did without the acting games they often play at the lock-in and focused on hours of rehearsal to prepare for their competition on March 4.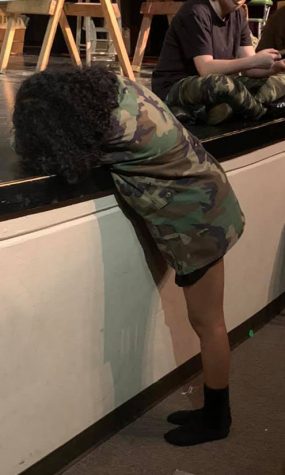 "Since COVID and then the storm cut out a lot of our practice time, we really needed this time to work on the play," junior Omar Almeida said. "We worked almost all night on it, but it was definitely worth it."
The lock-in is something that veteran theatre students look forward to all year.
"I'm always excited about the lockdown," junior Ashley White said. "It helps a lot, but we also goof off some, so it never gets boring."
The event started at 4:00 and other than dinner, the group worked until 1:00 am, stopping to have birthday cake for members Billy Duncan and Millie Lane, then played games in the cafeteria until director Melonie Menefee made them stop at 3:00. They were back up at 6:00 for doughnuts and one last run-through before wrapping things up.
"Mrs. V and I were sure we had worked them hard enough that they would want to go straight to bed, but we were wrong," Menefee said. "They were full of energy. I don't think they would have gone to sleep when they did if I wouldn't have insisted."
Although competition is right around the corner, the theater students are prepared for their event. 
"These kids have been working so hard and we really appreciate it," director Katie Villarreal said. "I know they will do great."