Juniors chow down on pizza for spirit award
During football season, to help keep spirit up even through COVID constrictions, Principal John Clements held poster and spirit competitions for each home game that pitted each grade against the other. Groups created themed posters and chants for each pep rally, which was live-streamed to students and the community. At the end of the season, the junior class had the most points and they traveled to Waco last week to celebrate their victory. 
"I always made sure that everyone was yelling as loud as they could," junior Gina Kitson said. "I did not want to lose to any of the other classes."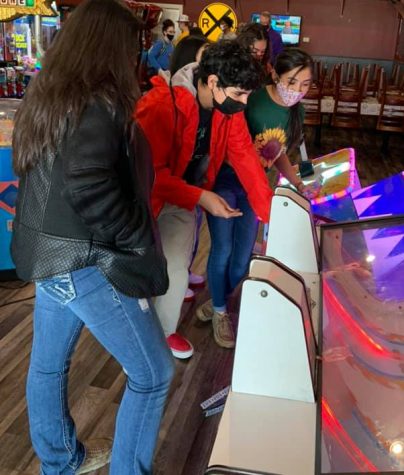 With a total of six spirit sticks at the end of the season, the group was happy to see their hard work pay off.
"We spent many hours after school trying to perfect our poster," junior Saloni Jariwala said. "Our first couple of posters didn't win, so we worked on our posters even harder."
Even though they were originally promised a trip to the movies as well, the plans got switched to going to Papa Rollo's for unlimited pizza. Continued issues with COVID nixed including the movies. 
"We were really looking forward to going to the theater, but I still had fun talking with my friends and waiting pizza," junior Jazlynn Early said. "We also got to leave early when we got back from lunch, so that was another bonus."
Overall, the competition was a success. Clements plans to continue this new tradition for many years to come.
"This competition got everyone excited for our pep rallies and football games," junior Jamal Allen said. "I hope we can have more of these contests so we can win again."