"Don't Breath" keeps viewers on the edge of their seat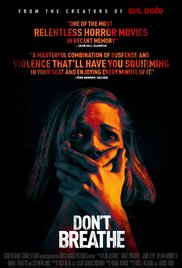 Rocky (Jane Levy), Alex and Money are three thieves who live in Detroit.  They make money by breaking into the houses of wealthy people. When they hear about a blind veteran who won a major cash settlement after his child's death, they know what they want to do next. Thinking that he's an easy target, the three of them invade the man's home in an abandoned neighborhood. Finding themselves trapped inside, the invaders must fight for their lives after making a shocking discovery about their victim, who is not so helpless after all.
This is a horror/crime/suspense film that keeps viewers on the edge of their seat. Fede Alvarez and Rodo Sayagues wrote this film with the intent of giving people a suspenseful movie that will be interesting, and that's just what happened. The dialogue is sparse, but the editing and sound effects build the terror in a masterful way. The result is an eventful and terrifying movie experience.