The Amazing Book is Not on Fire is an instant hit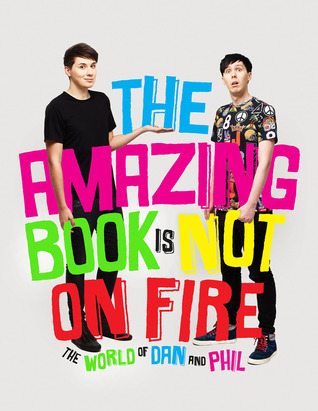 From two of the world's biggest YouTube stars, Dan Howell and Phil Lester, comes a fun-filled book called The Amazing Book Is Not On Fire: The World Of Dan and Phil. Youtuber Dan Howell, better known by his YouTuber name Danisnotonfire, was born in Wokingham, United Kingdom, in 1991. YouTuber Phil Lester, better known as The Amazing Phil,was born in Rawtenstall, United Kingdom in 1987. Both Dan and Phil are two awkward guys that share their lives with us on the internet.
Dan and Phil have more than eight million subscribers and more than half a billion views. These two guys are best friends that do a lot of things together, including filming together, living together and writing this book together. The Amazing Book Is Not On Fire is filled with lots humor, advice, quizzes, awkwardness, and some of the things that they have experienced together. Just some of the things that this book includes are how to draw the perfect cat whiskers, reasons why Dan's a fail, what really happened in Vegas, the time that they met One Direction, and so much more.
I discovered Danisnotonfire and The Amazing Phil through my best friend Stefani. I would go home with her after school some days, and after we did our homework we would watch Dan and Phil's videos. I instantly became a fan and began watching their videos on my own. When I heard they were writing a book, I got so excited and I had to read it when it came out. It was really funny and super enjoyable; it also shows that their struggles and success have not changed their strong friendship one bit or their belief that is totally okay to be weird.
The Amazing Book Is Not On Fire has sold a ton of copies since it was first released; many people liked the book, but I loved it. I could connect to it, and it was super funny, so it was a really enjoyable book. This book was an instant #1 New York Times Bestseller, it debuted number 1 on the Hardback Non-fiction chart, and it sold more than 26,744 copies in its first week. If you want a good laugh, or if you want to learn how to draw the perfect cat whiskers, or even if you just want to learn more about you favorite YouTubers, this is a good book to read.