McFarland, USA inspires while remaining light-hearted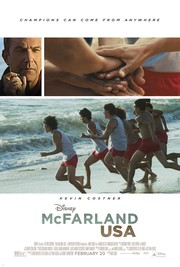 The storyline may be predictable, but a solid job in the acting department and an incredible true story makes McFarland, USA a movie that is sure to make you smile and to notch your competitive spirit up a level or two.
A struggling coach and teacher who has been had to move around for different incidents in his career finally comes to one of the poorest cities in America- McFarland, California. There he discovers buried potential among several high school boys and slowly turns them into championship runners and brings them closer than even he could ever imagine.
This movie is a wonderful drama that's as much about shattering racial stereotypes and presenting a positive image of immigrant life as it is about the coach. Costner may be the star, but he never steals the spotlight from the younger actors. Whether you are a runner or not, you need to get to the movie theater and check this one out.