OAP travels to clinic
With competition coming up, OAP students headed to their first clinic of the season. OAP clinics help the students by receiving input and critique from another director's perspective.
"The directors we typically see at clinics are very accomplished, have won multiple state titles, and/or have judged UIL theatre for many years," director Katie Villereal said. "It's an excellent way to get input that will improve and polish the production as a whole."
The first clinic was held in Centerville and was taught by Travis Springfield. The cast ran what they have worked on all the way through and then did some scenes again with understudies so that he could see all the actors.
"We did two actors in every role this year because we're nervous about someone getting sick or having to quarantine," director Melonie Menefee said. "One of the things Mr. Springfield was able to do was help us analyze those performances, plus where we need to improve overall.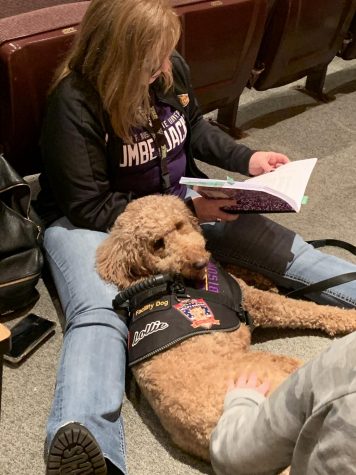 With COVID a big concern, a lot of changes were made for this year's OAP contest. Masks are required for the actors to wear during their performances. In addition, schools will perform one at a time and will not be allowed to watch other performances.
"A big part of acting involves varied facial expressions to show emotion, but with masks, half of the face is hidden," Villarreal said. "Volume and clarity is also affected by masked performances."
The theater department has faced many obstacles with quarantine and weather, but they continue to work diligently on their play.
"Our practice time has been cut in half so it has become harder for us to perfect our production," junior Omar Almeida said. "It is definitely challenging, but I'm confident that we'll be able to do good."